Client Fitness Testimonial
MICHAEL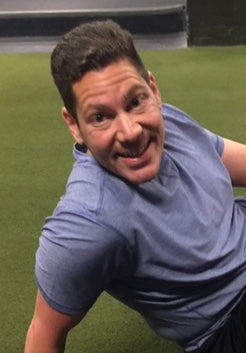 Name: Michael
Age: 36
Height: 5'9″
Michael's Training Program
Michael came to me wanting to get stronger. He had made progress in CrossFit classes, but recognized that his form was suffering due to limited flexibility and he needed regular coaching to make further progress. I spent several weeks with Michael deconstructing the main barbell lifts. Once he was moving well with the empty barbell, I graduated him to a standard linear progression strength training program using the Starting Strength method. Aside from a few in-person sessions early on, Michael's training was conducted remotely.
Duration of Training
One 8-week Cycle.
Before & After Statistics
Starting Weight for Lifts (lbs):
Squat Empty Bar (with depth and balance issues), Press 75×5, Bench Press 95×5, Deadlift 155×5, Power Clean 85×3
 
Ending Weight for Lifts (lbs):
Squat 155x5x3, Press 97.5×3, Bench Press 137.5×5, Deadlift 220×5, Power Clean 155 1RM
In His Own Words
"I've been doing crossfit for about 2 years. However, about a year ago I started to get some tough knee pain. After consulting with my physician, I tried a few physical therapy sessions which were helpful but deep down I knew I needed to take a step back and start over. I watched a lot of people in our gym get some really great results from completing a strength cycle with Hayden, so I knew it was a matter of time until I took the challenge.
In considering a cycle with Hayden, I was excited about developing additional strength, but I was most excited to fix the problems with my squat, which were a real cause for concern. My lack of mobility, depth, and overall strength were limiting me extensively in the squat and in most of my other lifts as well. This in turn, began to negatively affect my mindset. I procrastinated a little bit because for me, it was tough to get the thought out of my head that I needed to sweat 4-5 days/week. Recognizing that overall the technique and strength work would help me in the long run, I finally signed up. It couldn't have been a better decision.
The best and hardest part about the process was the EGO check at the beginning. Since my squat patterns were really bad, Hayden recommended that we start with just the empty barbell and work our way up from there. After the first few sessions Hayden creatively kept tinkering with my positions until I able to reach depth, from then on we were able to build accordingly.
I am happy to say that even after having completed the cycle, I am continuing to lift in combination with CrossFit and Body classes. While my conditioning is not yet 100%, my overall strength and confidence is at an all time high. I want to really thank Hayden for all his hard work and his ability to create different ways for me to excel. I look forward to continued success in all my lifts going forward."